The Vault Collection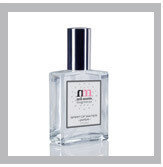 Spirit of Water
Based on a memory of a leisurely summer afternoon at Walden Pond in Concord, MA. It was July and an overcast day, moody and serene. I remember the soft scents of the trees and flowers growing nearby. But the water itself had an unexpected aura of scent that brought me back to my childhood and happy summer days swimming in the lake.
Top Notes of Wisteria and Water Lily introduce Heart Notes of Jasmine and Poppy.
The Base is a warm blending of Clean Musk and Tonka Bean.