The Vault Collection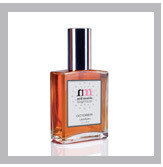 October
Fall in New England is incredibly beautiful and filled with aromas of the season. This fragrance is based on a memory of walking through the autumn woods in New Hampshire with a friend on October 15th 1990. The air was incredibly fresh and crisp but the sun was warm and in the distance we could smell apples, pumpkins and a wood fire burning.
October begins with Top Notes of Apple and a Leaf Note. Middle Notes include Bitter Orange, Pumpkin, Carnation and Pine.
The Drydown is a warm, rich blending of Frankincense, Cinnamon, Patchouli, Caramel and Myrrh.